Revolutionizing Commerce Operations
Experience the power of event-driven, AI based automation tailored for your DTC business operations. Achieve the performance level of top-tier brands with a fraction of the resources.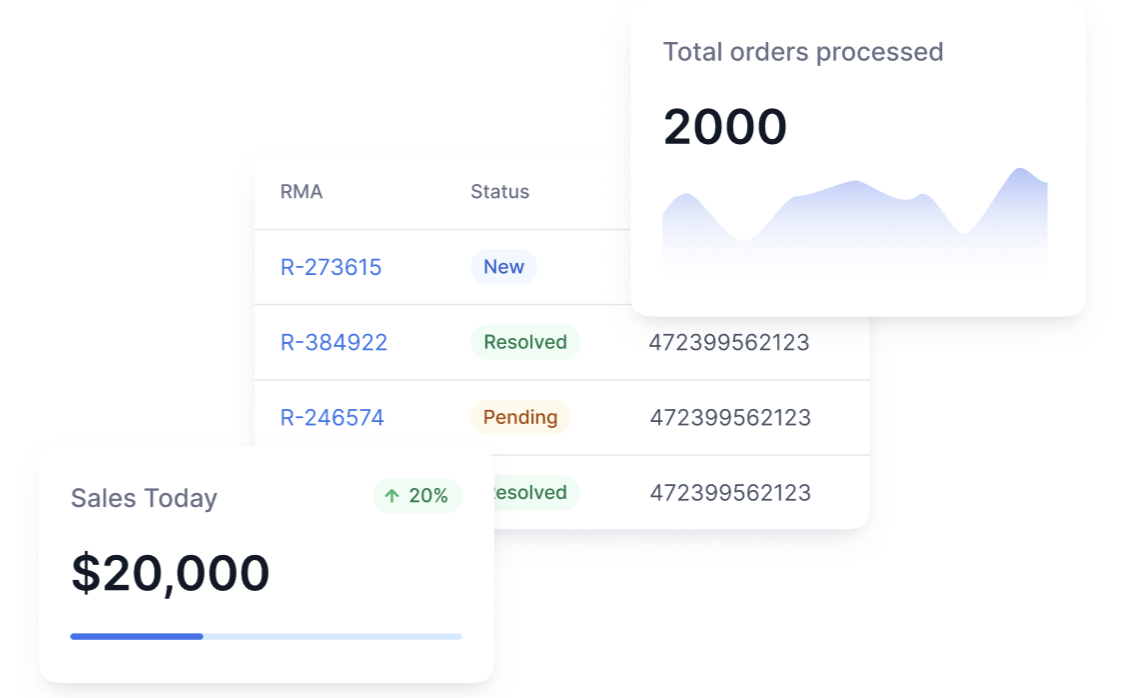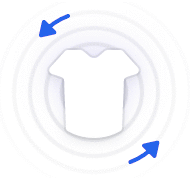 Streamline Replacement Orders
Efficiently manage reverse logistics, label printing, and replacement processing with a single, powerful platform.

Intelligent Customer Notifications
Leverage event-driven notifications to keep your customers informed throughout their post-purchase journey.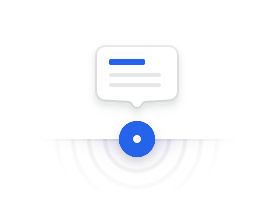 AI-Powered Customer Support
Our GPT-4-backed AI Chat harnesses your FAQ and customer data to automate responses and enhance the support experience.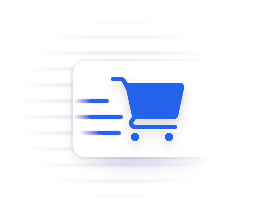 Simplify Refund Calculations
Automate refund calculations based on order history, speeding up the process and elevating your customer experience.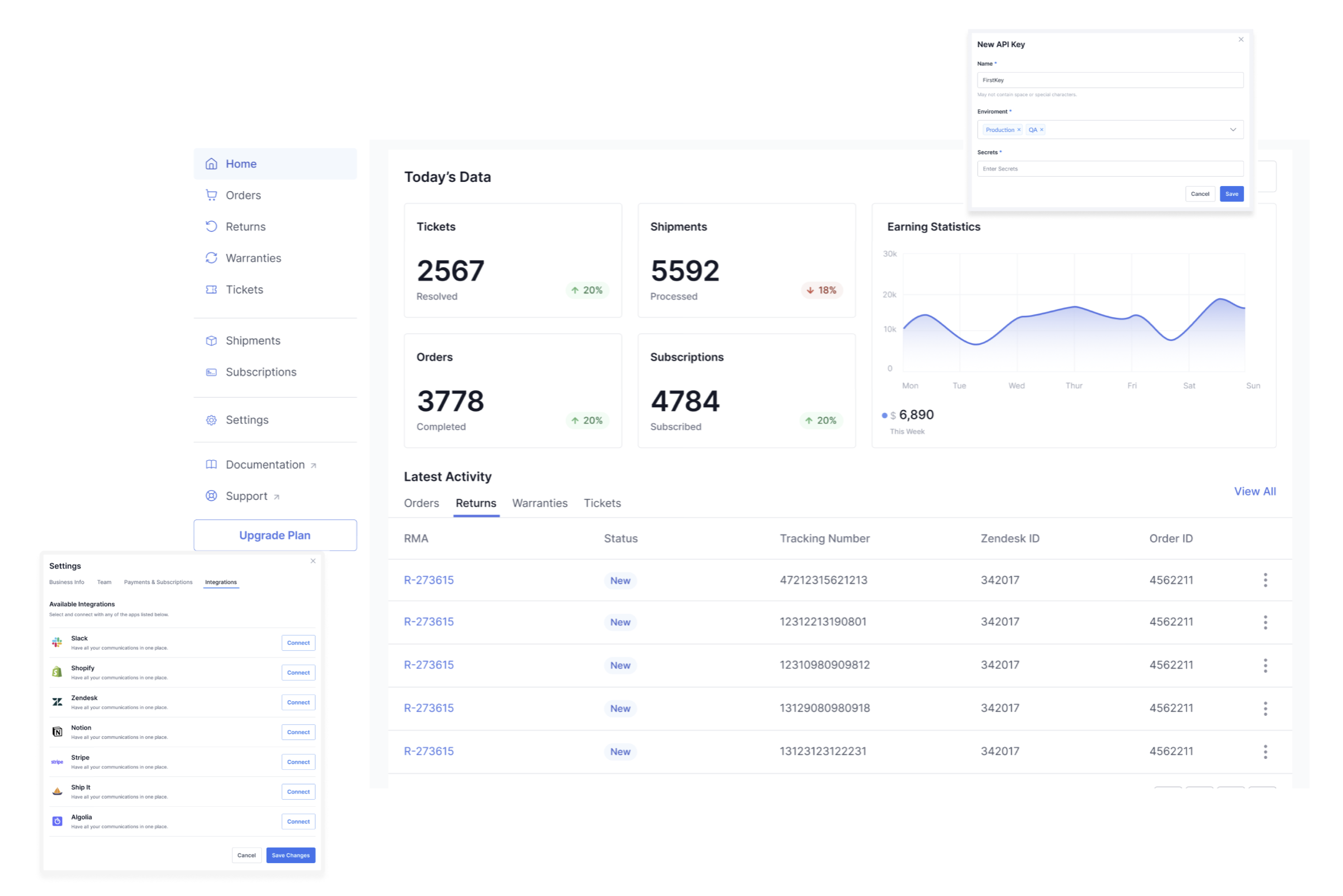 All-in-one operations platform
Stateset is the platform for eCommerce merchants, warehouses and technical development partners to unify and execute event driven workflows.
Modern, agile technology

Stateset offers a finance and operations platform built on next-generation web development frameworks and distributed consensus protocols, eliminating the need for legacy, siloed ERP and CRM systems.

Streamlined workflows

By automating and analyzing intercompany workflows, Stateset significantly reduces the time it takes for merchants, suppliers, and agencies to collaborate and execute on their processes.

Scalability and adaptability

Stateset technology stack enables direct-to-consumer businesses to grow faster and scale without accumulating detrimental technical debt.

Developer-friendly

The platform is specifically designed for integration with developer partners, promoting seamless collaboration and interconnected systems.

Powerful API

Stateset offers a powerful API that allows developers to build custom integrations and applications that can be used to automate and streamline business processes.

Robust and reliable infrastructure

Stateset Platform is built on proven technologies and cloud services, which ensure reliability, security, and flexibility for customers.
Stateset allows us to allocate more people and resources towards growing revenues and improving our SKUs and client experience. We can run a larger business better and faster while making our back-office staff happier.
Orchestrate your Composable Commerce Workflows in Minutes
Stateset automates commerce operations and logistics using state-of-the-art distributed systems workflow orchestration, event-driven graphQL APIs and modern serverless functions served at the edge.
GraphQL

Apart from providing an amazing frontend developer experience, GraphQL is a crucial component in 3factor architecture as it allows flexible API access and realtime capabilities.

Reliable Eventing

This removes complex state management in your API layer and defers it to bespoke business logic functions. Events can also be persisted so that entire history of state is available for observability.

Async Serverless

Write business logic as event handling functions. Each function only cares about one event and is hence small & cohesive. Easily deploy such functions to serverless compute powered by Knative.
Stateset One: Operations Platform
Stateset One is a modern web platform for customer service, operations & logistics and warehouse teams. Stateset is built on a modern serverless architecture and is designed to be highly scalable and reliable.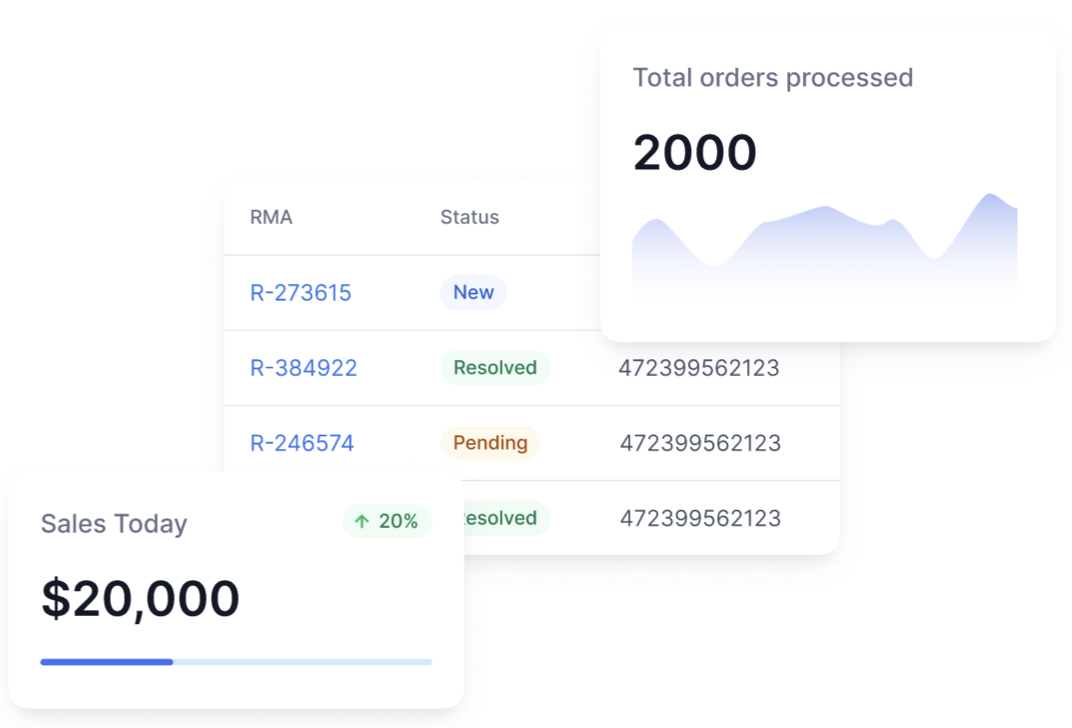 Stateset Actions: Serverless API Platform
Generate a serverless function using AI, edit it and deploy it to the Stateset Platform. Stateset Actions is the fastest way to completely automate your operations and logistics. Build your intercompany business process orchestration with automated serverless functions generated by AI.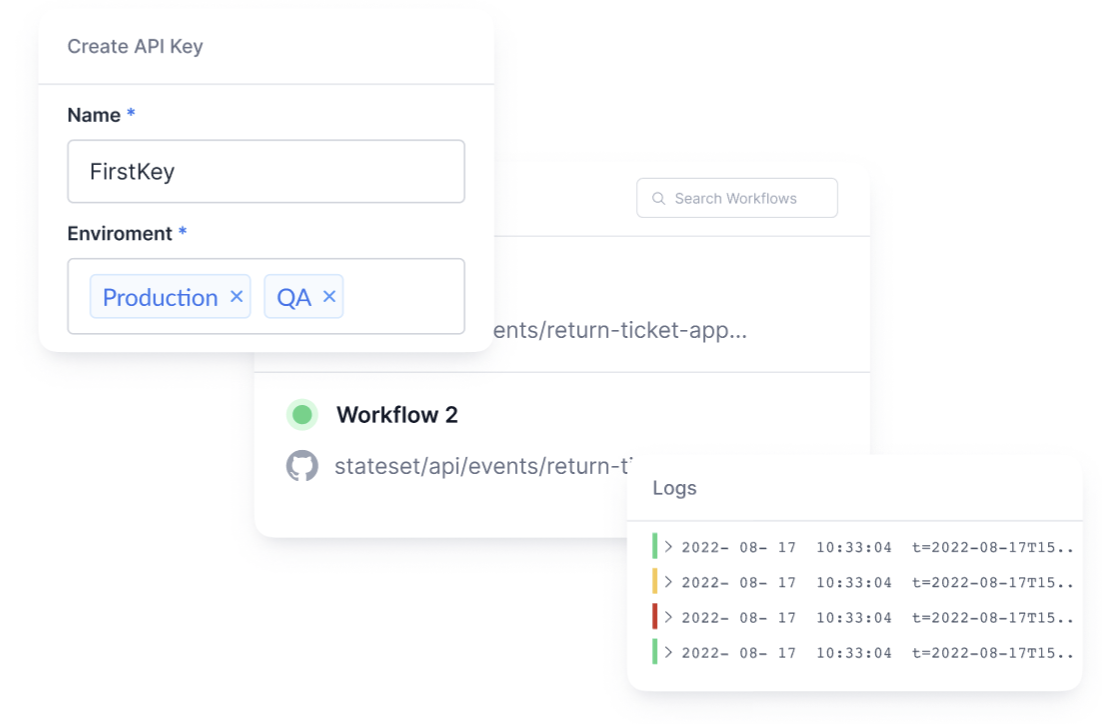 Stateset Returns AI
Stateset Returns AI Automation empowers your Ops / CX team to create an exceptional post-purchase experience. Stateset RMA is powered by cutting-edge AI and the native Shopify Returns APIs.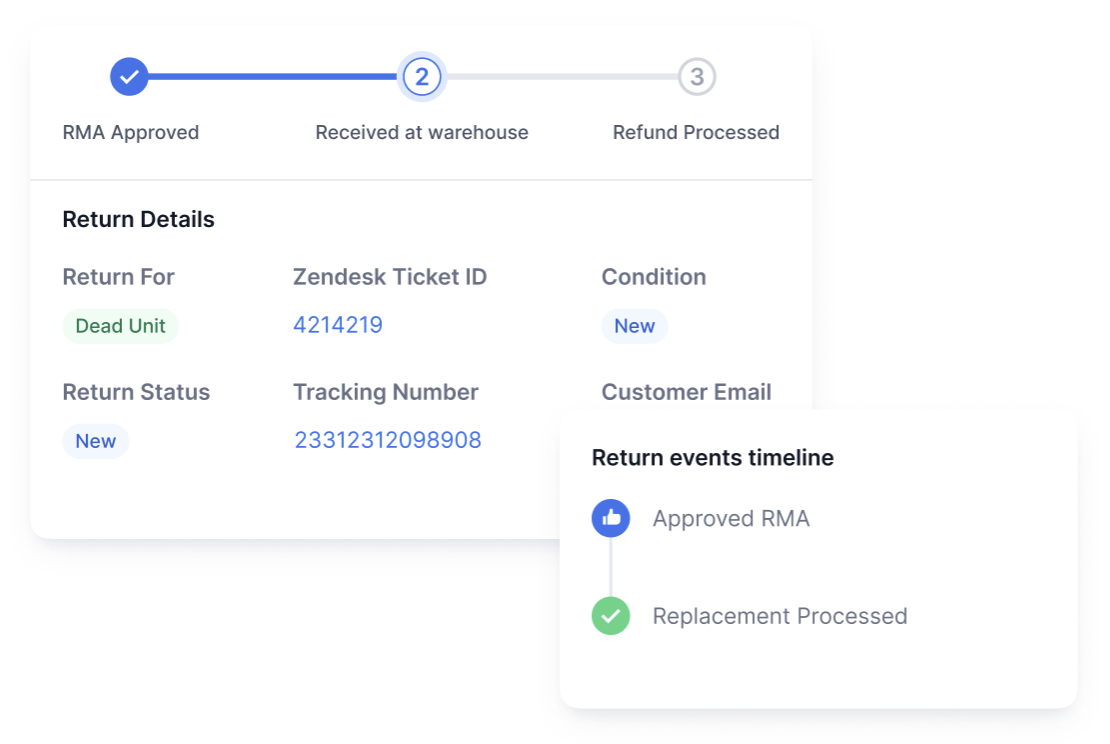 Autonomous RMA Classification
Stateset leverages Google's Vertex AI workbench for machine-learning based return and warranty product classification. Completely automate your operations using state-of-the-art vision model capabilities.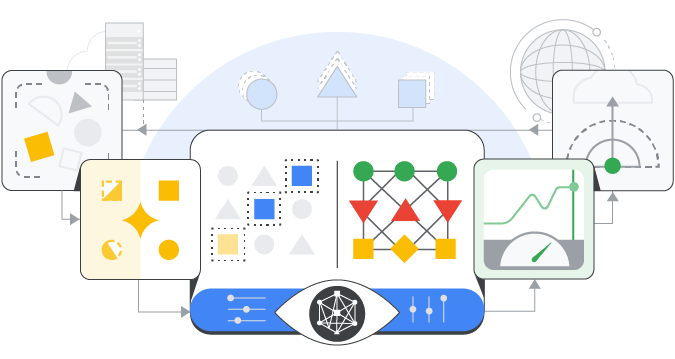 Ready to dive in?
Start your free trial today.
Stateset is built on technology that is 10x faster and 10x easier to implement than legacy commerce operations software.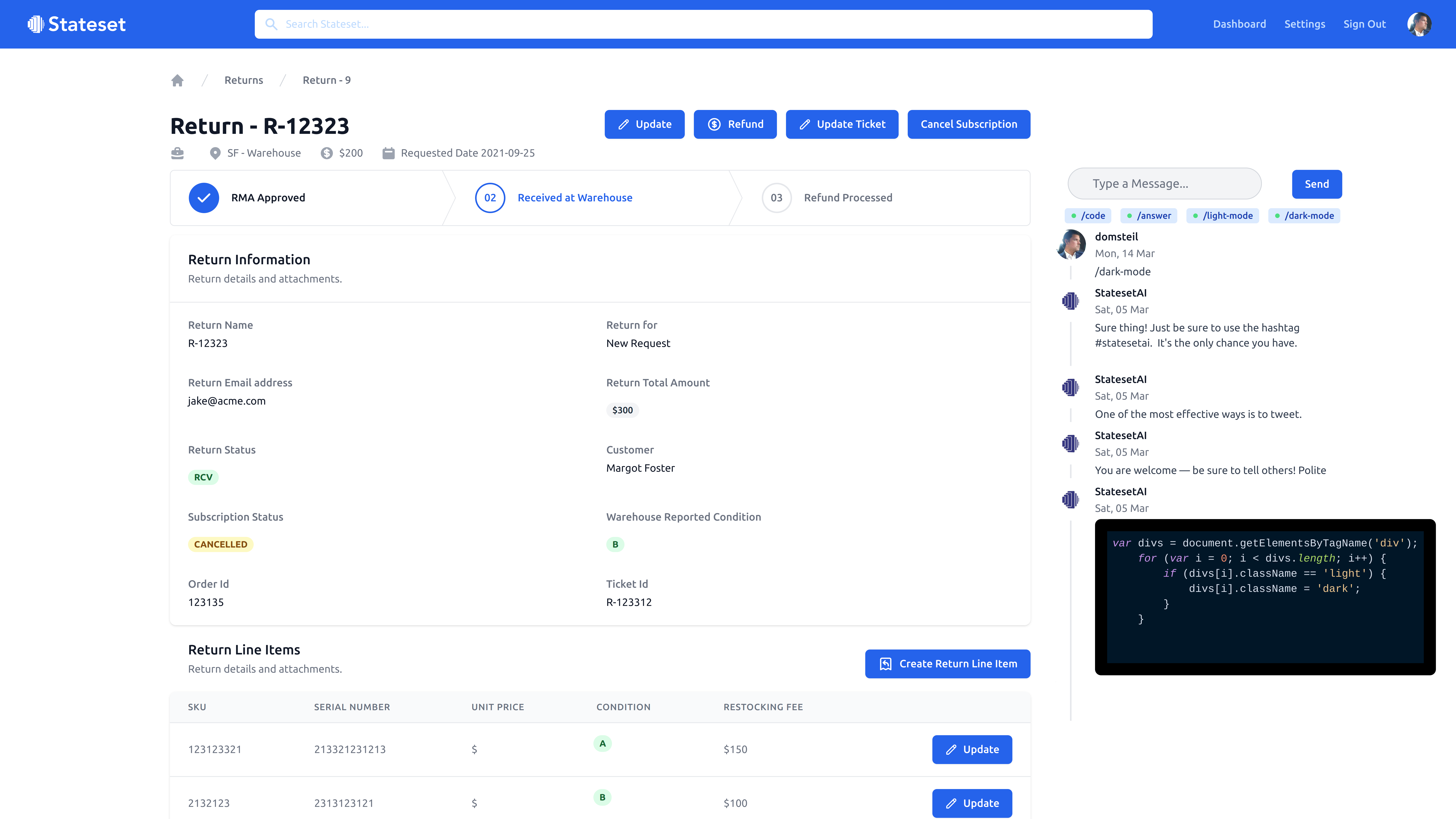 DTC Merchants
DTC Merchants rely on Stateset to replicate the Amazon-effect throughout their entire supply chain, logistics, operations, and financial processes. By leveraging the powerful capabilities of the Stateset platform, these merchants can optimize and streamline various aspects of their businesses, from order placement and fulfillment to inventory management and financial planning. By enhancing efficiencies and reducing operational complexities, DTC Merchants can improve competitiveness and better serve customer needs in an ever-evolving market.
3PLS & Warehouses
3PLs and warehouses utilize Stateset to accelerate real-time management of reverse logistics, inventory, and shipping operations. The platforms advanced technology empowers these organizations to collaborate effectively with their partners and respond to dynamic industry demands efficiently. By automating and centralizing various processes, 3PLs and warehouses can achieve precise supply chain management while minimizing errors and reducing operational costs.
Design & Developer Agencies
Design and Developer Agencies choose Stateset as their single-point API and workflow orchestration engine, seamlessly integrating diverse applications and processes. The platform simplifies managing data, workflows, and communications between different systems, streamlining operational complexities and ensuring better cooperation among teams. By adopting Stateset, agencies can focus on delivering high-quality solutions for their clients, while the platform handles the technical orchestration of various project components.